Again, one of the best Challenges!!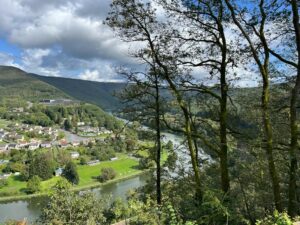 Well, that was some Challenge, enjoyed by 29 Teams of riders and 10 Marshal Teams.
With a short drive into northern France, we opted to use the ferry and avoid the inflated Rugby World Cup tunnel crossing prices. The first day cycling followed a loop out and back to Valenciennes. Unfortunately, the weather literally dampened our spirits, with 'approaching monsoon like' downpours in the afternoon bucking the Extramile trend of organised sun and a gentle breeze we normally guarantee for riders!!
Days 2 and 3 brought better weather, and some spectacular views; from the mist covered sunrises to elevated panoramas across the Meuse valley and Ardennes region. These days also saw a deal more elevation, but all riders took to the Challenge without question – spurred on by the finish line approaching.
A great cameradie, as in all years – and a few sore heads after the Gala Dinner, before a trip back to the ferry.
Well done to all ofr 2023, and we will be back for 2024!!